Archie Mega Man X Crossover Confirmed!
By Mac | 04 February 2014 - 12:40 AM
Destructoid
brings us some Xcellent news! Archie confirms that starting with issue #37, the crossover between Mega Man and Mega Man X entitled "Dawn of X" will begin, consisting of four parts.
Opposed to the assumptions of many fans, this story won't deliver a solid explanation to the events that occurred between series, but rather "clever storytelling tools to link the franchises in a way that doesn't fill any gaps best left to the fan's imagination." So it looks like, as with other material, it just gives us more to work with. That's okay though, because until there is an official bridge in the main continuity, things are still up in the air.
Just like in interviews before, the team at Archie seems totally thrilled to be working with the Mega Man franchise as a whole. There's a clear passion that I'm sure will translate well onto the pages of their comics. Ian Flynn comments,"
When I was told we had "Mega Man," I was excited, but my first question was "What about Mega Man X?
", and Paul Kaminski adds, "
I think everyone, both Archie team and readership alike, were dying to do an "X" story from day one, it was just a matter of timing... We worked closely with the great team over at Capcom and put together an entrance point into the Mega Man X franchise that I think both fans and new readers will love.
"
My interest is piqued and my hopes are high for this new storyline. I mean, it's Mega Man X, any new material covering the character his series is Xciting! (okay, I'll stop with the stylizing) More information is sure to be divulged soon enough, but until then, do read the full article over at
Destructoid
. Take a gander at that incredible artwork too!
Mega Man X Archie Comics Crossover Teased
By Mac | 31 January 2014 - 12:24 AM
Well, it's been a long time coming, but we finally catch the first actual glimpse of what's in store for the forthcoming Mega Man/Mega Man X crossover event. No details have been dispensed yet aside from this somewhat eerie teaser image. X kneels down and peers into a hole, seeing the original Mega Man's helmet, dirty and broken. It would appear this crossover special will attempt to tell the tale so many of us have wondered. The void that we've all tried to fill. What happened to the original Mega Man in the bridge between the series?
Personally, it would seem as though Rock fell on hard times due to the damage to the helmet. I've always been fond of the "Cataclysm Theory", if done with tact. No bloody massacre nonsense, cut and dry, but a pivotal conflict with sensible story elements. What I've personally devised for such an event makes sense. As for what the folks over at Archie have in mind? I suppose we'll see soon enough. Updates will be posted as they come. I'm pretty excited! (the artwork looks amazing!)
Unused X1 Music Unearthed
By Mac | 07 January 2014 - 06:01 PM
Thanks to
SuperMega233
, the mysterious and much anticipated unused
Mega Man X
track(s) from the
Rockman X 20th Anniversary Sound Box
have been isolated and uploaded for the eager ears of fans unable to nab one of the sets.
That's right, there's an "s" after "track" because originally, we thought only one unused tune was to be included, but there's actually four! Well, one tune
really is
unused, and that's the first song in the video. It's unclear what this track was meant for, but it sounds to me like it could be an upbeat stage select theme, a weapon get theme, or maybe a password theme. Regardless, I like it, and it's kinda surreal to hear a fresh X1 track all these years later! The following tracks consist of early, unrefined, but largely completed tunes; Chill Penguin's theme, Maverick Encounter, and Sigma Stage 3. Key differences are alternate instrumentation or missing instruments all together.
In the end, I think it's neat to hear these early works, even if it's nothing as "Xplosive" as I'd imagined, such as a theme for the prototype "White City" intro stage. It's good to know that these unused tracks weren't disposed of, though. Thanks for the little bonus, Capcom!
X2 on the Wii U!
By Mac | 02 January 2014 - 08:44 PM

The second installation to the beloved, now twenty years young, X Series has been released on the North American eShop Wii U Virtual Console. Above is a nicely done trailer displaying much of what X2 has to offer in terms of gameplay and challenge, as well as being able to play on the big screen or gamepad. The masterpiece that is the original Mega Man X was a tough act to follow, but X2 is widely hailed as a righteous successor and a favorite of many. Pricing is $7.99 or a mere $1.50 if you already purchased it on the original Wii.

Remember, fellas! Each purchase is a sign of support and interest. We'll surely see X3 in due time, maybe more!
Mega Man X's 20th Anniversary
By Mac | 18 December 2013 - 03:13 PM
(Image by TonamiKanji)
For those unaware, or for those who might have forgotten (which is an easy thing to do during all the holiday hijinx), today is the day that the beloved and enduring Mega Man X series turns 20. In fact, it was yesterday, the 17th, that the franchise as a whole turned 26 due to the original Blue Bomber who begat it all. Two decades, and nearly three? Our blue boys are getting old! Scary thing is, that means we are too. lol
Regardless of age, and of time, Mega Man is still a special entity to me, and so he shall remain. He's been in my life since I was two, maybe three, just emerging onto the video game scene with a Nintendo Entertainment System and the power of a good ol' video store. I then obtained my very own personal Mega Man game, Mega Man 5, and thus continued, or maybe truly began, a rich history and emotional endowment in the series.
Fast forward to today and it's pretty difficult to ignore that not much has happened with Mega Man. Like it or not, his 25th Anniversary has come and gone, with nary a substantial, official game in sight. Though we did receive a myriad of mega-merchandise, with some being pretty cool. Our boy X was recognized in an awesome way in the
second 25th Anniversary statue
for his 20th, after all.
While there's no new Mega Man X game to speak of, Mega Man X2 is now available on the European Wii U Virtual Console, with Xtreme 2
being released soon for Japan's 3DS eShop
. Of note otherwise is the
"Rockman X 20th Anniversary Sound Box"
containing 12 discs with a total of 490 pieces from the
entire
X series, featuring the likes of the Xtreme games, Maverick Hunter X, the remastered X3 soundtrack, and even an intriguing unused track from the original Mega Man X! Getting physical, there's the majestic
"Figuarts ZERO Sigma Statue"
which is a killer piece for any collection. Archie Comics is also
delving into the world of 21XX
alongside their acclaimed Mega Man comic book line with the upcoming
Mega Man X sub story
, which is sure to be exciting!
In the end, we still have to wonder when another Mega Man X game, or Mega Man game in general will grace our lives. We wait for it, and our patience is truly tested. Some almost give up, or even lose interest entirely. I'll continue to support the franchise that's always been around, in whatever capacity. You must be tried and true (true blue, if you will). All isn't lost though, as we have
Mighty No. 9
to look forward to, with all the spirit of Mega Man shining through. :)
Take this Armor, Nick...
By Mac | 14 November 2013 - 12:14 AM
Well, this is a pleasant surprise.
Polygon reports
that upon completion of Dead Rising 3, the player will gain access to
X's very first armor
. The X-Buster comes separate, however, and will be available for use if the player completes the game on "Nightmare Mode". Judging from the name, I'm assuming that won't be an easy feat, but surely worth it for
a full set of armor
that dishes out the devastation seen in the footage above!
As you're probably aware, this isn't the first time a
Mega Man outfit was featured
in a Dead Rising game. The second game in the series had a
certain suit and shield
as well. I don't know about you, but I think the new armor suit looks the best. Head on over to
Polygon to read more
about the upcoming Dead Rising 3, hitting shelves November 22nd.
X2 Headed to European Wii U Virtual Console
By Mac | 11 November 2013 - 10:18 PM
It's no secret that there's been little Mega Man news lately. A few things here and there, sure, but not enough. Especially with Mega Man X things. Although it's little tidbits like these that come around to wet our whistles for a while. According to
this week's European eShop release list
, Mega Man X2 will be available for purchase this Thursday at the price point of €7.99 / £5.49. Remember, if you already downloaded X2 for the Wii, you will be met with a discount for the Wii U.
A North American release is sure to follow, but I'd like something new rather than other ports. I'm sure we all do. Still...it's something, right?
Credit:
Protodude
Stories of 22XX!
By Vérité | 09 November 2013 - 06:49 PM
The year is 22XX.

Humans live in peace alongside mass-produced, highly-intelligent robots called "Reploids." However, no technology available has been able to completely eliminate the potential danger that comes with robots running on artifical intelligence. As a result, malfunctions have started occurring, leading Reploids to start attacking humans.

There have been many such cases...

These Reploids, having exceeded the bounds of their AI protocols, are called "Mavericks." And in order to round them up and protect humans from the Maverick threat, the Maverick Hunters team was formed. Among the Maverick Hunters, one Reploid in particular stood out from the crowd as the most advanced Hunter of them all. His name is Sigma.

"Reploids of the world! Take up arms and unite! Now is the time for revolution!"

Out of the blue, this was Sigma's call to arms, igniting a large-scale rebellion across the globe. Sigma's ambitions were stopped by the Maverick Hunters, but to this day, Reploids continue to fight each other with the fates of humanity and the world itself at stake.

Will you be the valiant Hunter who fights to protect your world and your human creators? Will you be the Maverick scoundrel on a path to your own destruction to break free from the shackles of humanity? Will you stay on the fence, looking out for number one?

Welcome to the future.

After months of planning,
The Stories of 22XX, Megaman X9 roleplaying section is reopening today!
Take a look at the bottom of the forum for information on joining and have a great time.
All Hallows Eve
By Mac | 31 October 2013 - 10:50 PM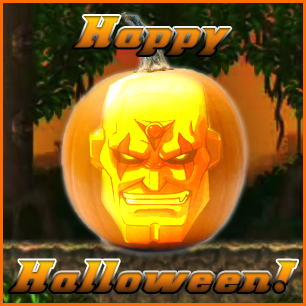 It's somewhat of a tradition to grace the front page with the age old Sig-O-Lantern. After all, this is the time of year for villains and otherwise unpleasant creatures. The streets fill with ghouls and ghosts, and maybe some goblins...or whatever's the in-thing this season. 2Spooky4Me, how 'bout you? (The new Ninja Turtles costumes do look pretty "accurate" though).
So what are your plans? Any parties to peruse? Any tricks to try? Any treats to eat? Whatever you may be up to, be safe and have a grand 'ol time!
Archie to Adapt Mega Man X!
By Mac | 03 October 2013 - 08:17 PM
If you've been keeping current with the ongoing
Mega Man comic book series by Archie Comics
, then you're well aware of its worthy success. For a lot of fans, though, there's been a yearning for a Mega Man X comic series ever since their Classic Mega Man adventure began. If you remember the rather shortlived run of
Dreamwave
, they intended to adapt the X series, but it never came to be due to their bankruptcy in January of 2005.
It's been a long time coming, but
IGN reports
that in Mega Man #34, to hit shelves in February 2014, the Mega Man X storyline will begin to be featured as "back-ups" with interior art by artist extraordinaire, Patrick "Spaz" Spaziante!
In the interview
, Ian Flynn and Paul Kaminski assure that their work will stay true to the games. "If it ain't broke, why fix it?" says Kaminski. Starting "in the months before the first game, setting things up for Sigma's revolution", we will see the world of 21XX fleshed out, complete with darker tone and deeper complexity.
Does this mean that Mega Man X will eventually have his own comic series? "Most definitely!" exclaims Flynn, "We really want to bring people a Mega Man X book, so we need the people to demand it. Be passionate and be loud, people!" This is the stuff MegaManX9.com thrives upon, especially when it pertains to the X series. It may not be X9, but a fresh comic book series? Count me in! Kaminski adds, "The back-ups serve to set the stage for a story we've got slated for Spring/Summer 2014. If fans and readers support it, you will see more X, plain and simple!"
You heard the men. It's time to do what we do best! We must show support and enthusiasm, extending our passion and gratitude and when February rolls around, share our feedback. To do so, shoot Archie Comics an e-mail or write them via their
Contact Page
. If social networks are more your thing, connect with them on
Twitter
or
Facebook
. They're excited and itching to begin work on the beloved X series and if these shorts go over well, which I'm confident they will, there's a high probability we'll see X and co. in their own serial. Let's make it happen!
» NEWS ARCHIVE «